Thanks for printing! Don't forget to come back to Zerorez Orlando for fresh content!
Breathe Easier™

AIR DUCT CLEANING ORLANDO

Did you know the quality of the air in your home can be much worse than the air outdoors? The list of potential allergens and pathogens in your ductwork is long: bacteria, kitchen grease, pet dander and more. In fact, the EPA lists indoor air quality as one of the top 5 health threats in America.

Zerorez® offers an effective, powerful air duct cleaning system. Our technicians will keep you breathing easy and feeling well.

Along with our air duct cleaning, we offer an antimicrobial treatment that is designed to treat microbial contamination such as mold, viruses and bacteria on the interior surface of your air duct system. This application aids in controlling the spread of infection to the indoor environment helping to protect the homes occupants. This service is essential to the safety and sanitation of every home and may be purchased as an additional service.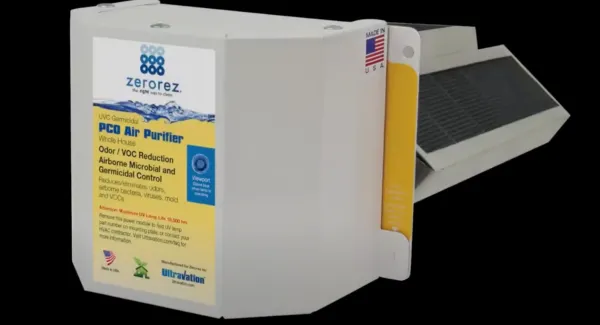 WHOLE HOUSE AIR PURIFICATION
Purify the air with activated carbon! UVCatalystTM is a whole house air purifier that uses activated carbon, photocatalytic oxidation (PCO), and ultraviolet light to remove odors and kill millions of airborne bacteria, viruses and mold.
Purifies circulating HVAC air
Freshens indoor air
Removes odors
Kills airborne bacteria, viruses and allergens such as microscopic mold
Decomposes VOCs
Produces no ozone
Clean Air
for a Clean Home
If you've ever noticed black lines on the edges of your carpet, then your floors are not all that needs cleaning. This is called carbon filtration, which is a good sign that it's time to clean your air ducts. Over time, dust and grime collect in your ductwork. When your heating and cooling system blows air through your vents, this dirt comes out with it, often gathering on fibers in your carpet and upholstery. A true whole-home cleaning includes your ductwork, which means cleaner air.
Prep Instructions
Important Information to help you prepare before we arrive:
We'll need unobstructed access to your home, the air handler unit(s) and all vents. Please clear a path to, and around, the entry into your home, the air handler unit(s) and vents prior to the service, including all fragile items in the areas and vehicles in the driveway.

The system will need to be shut down while the duct cleaning is performed, so please make sure to heat/cool your home to the desired temperature prior to the service.

In some instances, our technician may need unobstructed access to your attic.

The standard air duct cleaning price includes the air ducts. The coil and blower cleaning are additional services and incur an additional cost.

Antimicrobial treatment is available for an additional cost.